While there are many strategies involving gaps, let's look at a few here.

As a rule we like to buy strength and sell or sell short weakness. This is the preferred play. There is an exception however. Below is an example of shorting a strong stock.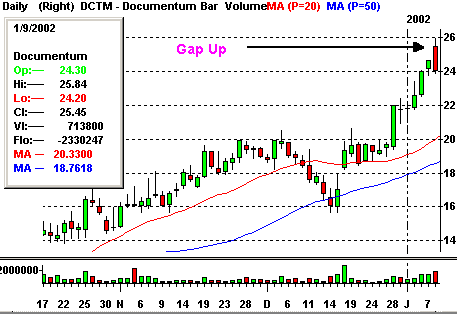 chart courtesy of Mastertrader.com
The nicest plays are where a stock gets extended and then gaps in resistance (for a short). However, there are times a stock may not have a resistance area, like when at new recent highs. Why short a strong stock? Well, normally we would not. But this stock is over extended. Look at the 20-period moving average (red). Notice how far away we are now as compared to in the past two months. Notice that there were six days up in a row, all of them since the breakout from the base, or consolidation area on the daily chart. Look at the increasing volume as shown by the last three green bars on the daily chart. Now, on the last day shown, the stock gaps up. That is the key. This is known as a Novice Gap. The latecomers are deciding that now is the time to buy. This is where the opportunity is, on a day like this on the gap up. This is a guerrilla type tactic that should be used for the day, or possibly one overnight.

Below is another example on a long play.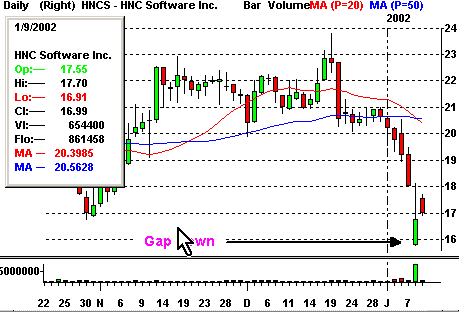 chart courtesy of Mastertrader.com
Here again, look at the distance from the 20-period moving average. There are five days down in a row. One thing missing here is the big increase in volume on the last day. However, look at the size of the gap. This is a large gap after five days down.
Here is a slightly different play shown below in KANAD.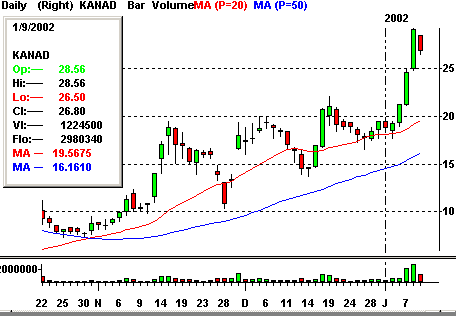 chart courtesy of Mastertrader.com
Notice all the same things here. The distance from the 20-period moving average, the number of days up, and the increasing volume are all present. Here, the stock does not gap up in a novice fashion, but rather it gaps down (60 cents). This is known as a Professional Gap. Profit taking sets in and the stock drops. This stock opened on its high of the day. We shorted this stock at 28.40 with a stop at the high of the day, 15 cents away. We took half profits at our first target 27.23 and are trail stopping what will hopefully be a swing trade.

There are two nice things about playing gaps that many traders like. You can usually have very tight stops, (or can pass on the ones where you do not), and you usually get some results fairly quickly. Often reversal time (10:00 A.M.) brings some results.



...Trading gaps Part 3